click on boxes and text fields to open links: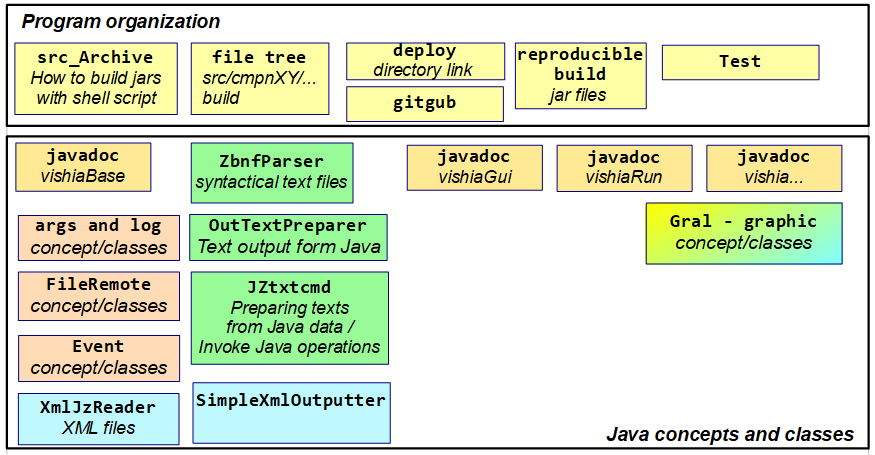 => html/Base/Events.html: Basic system for event handling.
=> html/Base/FileRemote.html: Access files in separated threads, for Graphic, for specific file systems.
=> html/Gral/vishiaGui_Gral.html: Graphic Adaption Layer - the vishia GUI approach
The Java sources are divided in five components. In the past some of the Java sources are translated to C using Java2C. The Java sources are the original sources for C. See emC - embedded multiplatform C / C++
=> html/source+build/src_Archive.html: Archive of Java jar and sources - =>html/source+build/buildtestVishiaJava.html: Build & test Java components
https://vishia.org/Java/deploy contains jar and source.zip with reproducible build approach
Older versions, see there in versionArchive also with reprod.build approach.
It uses the => https://vishia.org/Java/html/source+build/reproducibleJar.html concept, see also =..=> https://reproducible-builds.org
https://github.com/JzHartmut contains git for the Java sources
That are not all Java-sources in the vishia-Project. The Java2C - Translator is written in Java.
The ZBNF - Downloadpackage contains some sources to handle with XML. That sources depends on the SAXON XML tools and Jdom.