last change: 2023-01-28
embedded multiplatform C - emC is a collection of C sources and a concept to write applications in C for embedded systems:
Goals
Test of algorithm on PC platforms (Visual Studio or Eclipse) near to target conditions
Reusing of unchanged sources for several applications and platforms
Object oriented architecture in C
Using C and C++ compiler
==> emC_approach
click on boxes and text fields to open links: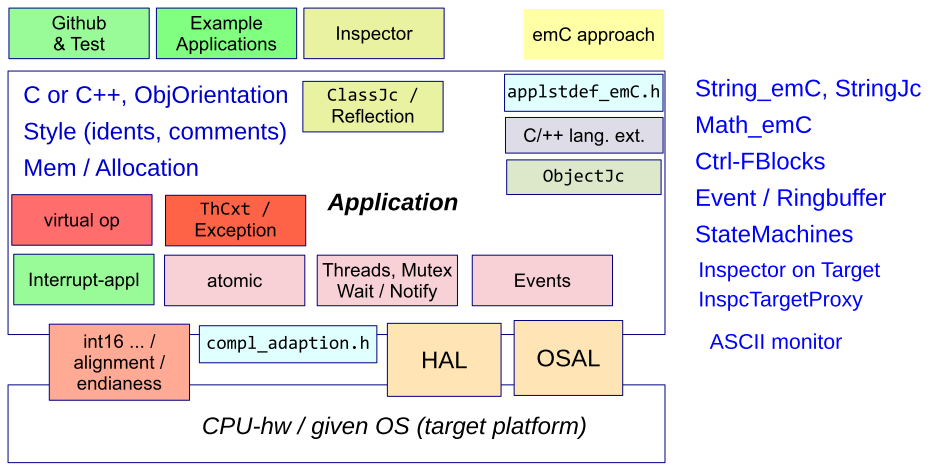 Approach emC_approach_en.html / emC_approach_en.pdf
Github: github.com/JzHartmut/src_emC, github.com/JzHartmut/Test_emC
Topics
Link to my own article in german:
Link to other article to this topic (german). Note: Some representations, in some cases, are not my point of view.
Artikel in ESE: "C++ für Echtzeit-Anwendungen" Grundsätzlich richtig, es wird aber zu stark die "Strukturierte Programmierung" betont. Wo liegen die eigentlichen Unterschiede .... in Bezug auf Rechenzeit. Aus meiner Sicht: Stichwort 'Referenzierte Daten' fehlt.
Some youtube videos (in german)
Umfrage Exception Handling / Umfrage Dynamisches Memory zur Runtime
Older docu, TODO: